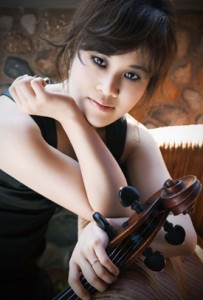 Jacqueline Choi
Cellist Jacqueline Choi, the 1st place winner of the 2010 Edwin H. & Leigh W. Schadt String Competition, is an active soloist, recitalist, and chamber musician sought after in the United States and abroad. Having made her concerto debut at age 12 in Seoul, Korea, Ms. Choi was invited to solo with the Boston Symphony, Bucheon Philharmonic, Boston Landmarks, Allentown Symphony, and New England Conservatory's Chamber Orchestras, and toured Brazil and Venezuela as a soloist with NEC's Youth Philharmonic Orchestra.
Ms. Choi is a recipient of the prestigious Kumho Prodigy Concert Award. She won first place in numerous concerto competitions including those held by the Boston Symphony Orchestra, the Brockton Symphony, the New England Philharmonic, and the New England Conservatory, and was also a prizewinner of the 24th Irving M. Klein International String Competition.
Also a devoted chamber musician, Ms. Choi appeared in concert with the Chamber Music Society of Lincoln Center, performing with Itzhak Perlman, and toured major cities of Canada with the Kumho Virtuosi Trio. Also a member of the Kumho-Asiana Soloists, she performs in their chamber music series and international tours on a regular basis. Ms. Choi has participated in the International Program at Music@Menlo, Yellow Barn Music Festival, Banff Centre for the Arts, and the Schleswig-Holstein Musikfestival, collaborating with Itzhak Perlman, John Adams, John Harbison, Donald Weilerstein, Stephen Coxe, and other such renowned artists.
Jacqueline Choi is currently pursuing her Doctor of Musical Arts degree at the Manhattan School of Music in New York City. She completed her Master of Music degree at the Juilliard School and her Bachelor of Music degree at the New England Conservatory in Boston. Her teachers include Clive Greensmith, Timothy Eddy, and Paul Katz. Ms. Choi plays on a 1854 Giuseppe Rocca cello graciously loaned to her by the Kumho-Asiana Arts Foundation.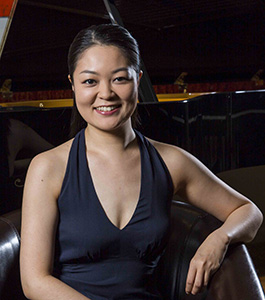 Mai Kagaya
As a chamber musician and solo performer, Mai Kagaya has appeared before audiences of Stern auditorium, Zankel Hall and Weill Recital Hall of Carnegie Hall, and Steinway Hall, and also the Kaufman Center. In addition to these personal engagements, Ms. Kagaya performs concerts as a member of the New York Piano Duo, and performs frequently with Alexander Beridze in Aspen, CO, Palm Beach, FL, and NYC.
In her native Japan, Ms. Kagaya had already established herself as a virtuoso performer with a sensitive touch and sophisticated artistry while still a teenager. In 2003, she won the Dorothy MacKenzie Award at the International Keyboard Institute & Festival. As a result of her successful appearances, she was invited back to the festival the following year. She was also awarded numerous prizes by the Piano Teachers' National Association Competition and the Japan Piano Teacher's Association Competition, which led to her triumphal Tsuda Hall debut in Tokyo in 2001.
In 2004, Ms. Kagaya was selected to perform at the prestigious Hamarikyu-Asahi Hall in Tokyo. In 2006 she appeared as a soloist with the Kyushu Symphony Orchestra in Fukuoka City. Her performances were critically acclaimed and she was invited to study in the United States. In 2008, Mai performed with the Mannes Community Orchestra and Doctors Orchestra presented by the Mannes Extension Division as a winner of the Concerto Competition.
Ms. Kagaya performed at master classes presented by legendary pianists and teachers, Alicia de Larrocha, Earl Wild, Victor Merzhanov, and Mikhail Voskresensky. Among her private coaches was German Diez, an assistant pianist to Claudio Arrau.
Ms. Kagaya earned her BM degree at the Toho Conservatory in Japan with Yoriko Takahashi. She holds a Master of Music degree from Mannes College of Music where she studied with esteemed pianist and pedagogue Jerome Rose.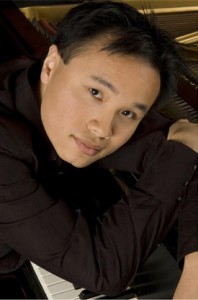 Dizhou Zhao
"His technique has been beautifully schooled for such music. He plays with a wide but never exaggerated dynamic range. His rhythmic sense is superb; the scansion of his phrases proceeds beautifully with never a note out of place. He offers the blend of passion and intelligence that characterizes the mature artist." ---- Dave Saemann (Fan fare magazine)
Dizhou Zhao started his piano studies at age four in his hometown of Shanghai. His talent was quickly evident at his young age as he won first prize at the competition in Shanghai and as he performed his first public concert at age seven. The following year, Dizhou was invited to record five piano sonatas by Mozart. His early success continued throughout his career bringing him numerous awards from competitions around the world. He received first prizes in the Dorothy MacKenzie competition, the Southern Highland International Competition in Australia, and the Louisiana International Competition which engaged him for concerts in France, Russia, and Australia and a solo performance at Weill Hall at Carnegie Hall.
Other awards received by Dizhou include the Special Chopin Award in the USASU Piano Competition in Arizona, third prize in the Tbilisi International Piano Competition in Georgia, the third prize in the Viardo Competition in Dallas, and 2nd prize in the World Competition in Cincinnati. He also won the "Special Recognition" Award in the "San Antonio International Competition" in TX.
In 2008, Dizhou was invited to record his first solo CD in Moscow, released under the "classical record" label. Dizhou's performance of the Stravinsky piano concerto with the Queensland orchestra received rave reviews and was recorded for the ABC radio for broadcast. His two solo recitals in the Newport Music Festival also received great reviews by Channing Gray from the Providence Journal.
His engagements in the early 2011 would include all Chopin recitals in Texas, Bergamor music festival and teaching Master classes in Italy and China.
Dizhou completed both his Bachelor and master Degree with a distinguished performance honor under the guidance of Alexander Korsantia.
Currently, he is working with Mr. Sharon Boaz in Boston University for his DMA degree with full scholarship award, after receiving Artist Diploma from Longy school of music.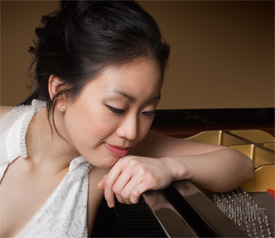 Yoonjung Han
Praised by the Cincinnati Enquirer for her "flowing tones, poetic phrasing, and heavenly singing melodies", Pianist Yoonjung Han is a rising star of the piano world. She was the gold medalist at the 2008 World Piano Competition in Cincinnati, and 1st prize recipient of numerous competitions such as the Juilliard Gina Bachauer, Kosciuszko Chopin, Nena Wideman. She also received top prizes at the Concorso Internaziole Ettore Pozzoli and Maj Lind International Piano Competition. She is a recipient of Keyboard Trust Award in England and Gawon International Music Award in Korea. Han has been named the "Most Promising Young Artist" by the Korean Ministry of Culture.
She has appeared at the Lincoln Center, Carnegie Hall, performed with the Buffalo Philharmonic, Helsinki Philharmonic, Seoul philharmonic Orchestra, Houston Symphony, Banff Festival Orchestra, and I Pomeriggi Musicali di Milan. In 2011, she makes her European debuts with the Berliner Symphoniker, Steinway Hall in London, Bergamo Festival in Italy, and Salle Cortot in Paris.
A graduate from the Curtis Institute of music, and Juilliard School, Yoonjung is completing her Doctoral degree at the State University of New York, and Artist Diploma at the Universite de Montreal.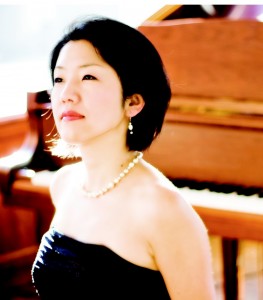 Michiyo Morikawa
Michiyo Morikawa, pianist, was born in Nagano, Japan and began playing the piano age of five. Ms. Morikawa was a volunteer music teacher at the La Gran Familia Orphanage in Mexico. She holds a Master of Music degree from the Manhattan School of Music where she studied with Karl Ulrich Schnabel and a Professional Studies diploma from the Mannes College of Music. Currently, she continues her musical studies with Germán Diez. Ms. Morikawa has received several honors including First Prize and the Special Composer's Prize at the XII Concurs de Piano Premi Ciutat de Berga in Spain, the Japanese American Association Piano Competition in New York City, Special Prize at the frist Concurso Internacional de Piano "Ignacio Cervantes" in Cuba, and First Prize at the UNAM Young Soloist Auditions in Mexico City. She has performed concerti with the New York Symphonic Ensemble, and, in Mexico, the Filarmonica de Jalisco, the Sinfonica de Coyoacan, and the UNAM Chamber Orchestra. She is a frequent recitalist in the New York area, as well as Latin America, Europe and Japan. As a chamber musician and accompanist, Ms. Morikawa has performed with brass players including trumpet player Stephen Burns, Philip Smith and Thomas Smith of the New York Philharmonic, John Rojak of the American Brass Quintet, Stefan Dohr of the Berlin Philharmonic, Scott Thornton of the San Francisco Ballet Orchestra and Michael Rossi of the Kennedy Center Opera House Orchestra. Ms. Morikawa is currently a piano teacher at the Third Street Music School Settlement and at Greenwich House Music School in New York City.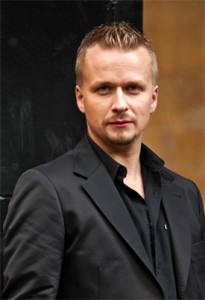 Ilya Yakushev
Russian pianist Ilya Yakushev has firmly established a presence and reputation in the musical world as a world class pianist. He has many awards and honors to his credit, and has performed at major venues on three continents. His three-concert series at the San Francisco Symphony's Prokofiev Festival under Michael Tilson Thomas was named one of the "Top 10 Classical Music Events of 2007" by the San Francisco Chronicle. He has also appeared as concerto soloist with the Utah Symphony under Keith Lockhart in Salt Lake City; the Mariinsky Theatre Orchestra under Tugan Sokhiev (also known as the Kirov Orchestra) in St. Petersburg, Russia; the Arkansas Symphony and the Las Vegas Philharmonic under David Itkin; and the Mannes Orchestra under Paul Nadler at Lincoln Center's Alice Tully Hall.
As a concert soloist, Mr. Yakushev has performed in Lincoln Center's Great Performers Series, the International Keyboard Institute & Festival (New York City), the Ravinia Festival (Chicago) and Piano Summer (New Paltz, NY), and at such prestigious venues as Weill Recital Hall at Carnegie Hall and Alice Tully Hall (New York City), Bechstein Center (Berlin), Musikverein (Vienna). Among his many awards are the Gawon International Music Society's Award (Seoul, Korea), and first prizes at the World Piano Competition (Cincinnati, Ohio), and the Donostia Hiria International Piano Competition (San Sebastian, Spain). Mr. Yakushev attended the Rimsky-Korsakov College of Music in his native St. Petersburg, Russia, and subsequently came to New York City to attend Mannes College of Music where he studied with Dr. Arkady Aronov and later with legendary pianist Vladimir Feltsman.
In addition to his performing career, Mr. Yakushev is presently serving as Executive Director of the International Keyboard Institute and Festival at Mannes, founded and directed by Jerome Rose, a position he has held since 2002.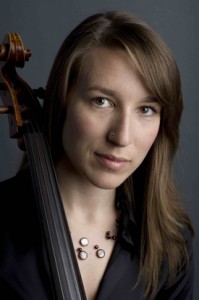 Julia MacLaine
Julia MacLaine has consistently been singled out by critics for her rich tone, sweet, throbbing vibrato, and superb playing. Her performances at Carnegie Hall as a member of Ensemble ACJW and as a soloist and chamber musician throughout Europe, North and South America, and Iceland, have established her as one of today's prominent cellists. Julia is a member of The Knights Chamber Orchestra, The Beauséjour Trio, Troika, Tres Americas Project, and Pangea. She has performed with many other New York based ensembles including The Chamber Music Society of Lincoln Center, Yo-Yo Ma's Silk Road Ensemble, and The International Contemporary Ensemble (ICE).
In 2007, MacLaine was the soloist in Tan Dun's Cello Concerto Elegy: Snow In June at Carnegie's Zankel Hall with Ensemble ACJW. As a soloist and chamber musician, she has performed at all three Carnegie Halls, as well as at Alice Tully Hall, Symphony Space, Galapagos Art Space, Le Poisson Rouge, and Merkin Hall. With her duo partner, Ilya Kazantsev, Julia won a first prize in the Chamber Music Foundation of New England's 2008 International Chamber Music Ensemble Competition. She has recorded for Sony Classical and Deutsche Grammophon. After receiving her early training as a cellist on Prince Edward Island and in neighbouring Nova Scotia, Julia went on to study with Antonio Lysy at McGill University, and with Timothy Eddy at The Juilliard School and the Mannes College of Music. Julia plays a cello made by Christophe Landon in 2006. Please visit juliamaclaine.com for more information.
Soyeon Park
Korean-born American pianist Soyeon Park started her musical education at the age of four. Soon after arriving in the United States, Soyeon attended Manhattan School of Music's Preparatory Division as a scholarship student, where she gave three showcase recitals and won two concerto competitions. As a young artist, she won many awards from various competitions and auditions including ARTS (Arts Recognition and Talent Search) by the National Foundation for Advancement in the Arts, Heida Hermann International Competition, Wideman Piano Competition and the Corpus Christi International Competition.
Soyeon was accepted to participate in Tivoliclassica Festival Internazionale di Musica Classica in Italy, Piano Texas and Banff Music Academy. Her highly acclaimed debut recital in Romania brought her back to Europe to perform in Sicily, Italy with an orchestra. She continues to perform as a soloist at concert halls throughout the United States and Europe. Soyeon has been privileged to participate in masterclasses with renowned pianists Alexander Kobrin, Armen Babakhanian, Robert McDonald, Ann Schein, Ian Hobson, Jerome Lowenthal, Min Kwon, Barry Snyder, Ivan Moravec, and Menahem Pressler. Soyeon's recent performances include a recital which was broadcasted on Czech National Radio.
Soyeon is a highly sought-after collaborative artist in New York City's demanding classical music scene, frequently appearing at prestigious venues such as Carnegie Hall and Steinway Hall. Her energetic and insightful interpretations of classical works have charmed and inspired audiences young and old. She received her Bachelor and Master Degrees of Music as a scholarship student from Manhanttan School of Music. Currently, Soyeon is working for Doctoral Degree in Musical Arts at Manhattan School of Music under tutelage of a renowned pianist and pedagogue, Zenon Fishbein.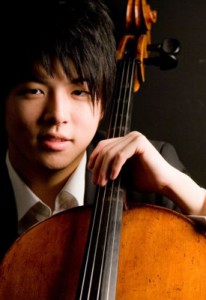 Nan-Cheng Chen
21-year-old cellist Nan-Cheng Chen is a senior at the Juilliard School of Music studying with renowned teacher and cellist of the Juilliard String Quartet, Mr. Joel Krosnick. Nan-Cheng started his musical training at the age of 6 in Taiwan, and came to United States at age 12 to continue his studies. As an active performer, he has won many awards and was invited to perform in major concert halls such as the New York's Carnegie Hall and Boston's Jordon Hall. Nan-Cheng's near future plan include releasing his first album in Spring, and two solo recitals in Taipei's National Recital Hall and Taichung's Chung-Shih Hall in August, 2010.
In the past summers he has participated in the Kneisel Hall, Sarasota Music Festival, Aspen Music festival, Heifetz International Music Institute Festival, The Banff Center and the Encore School for Strings. Nan-Cheng was awarded first prize in the 2010 Queens Symphony Concerto Competition, and will be playing Tchaikovsky's Rococo Variations in their next season. He also performed Kabelevsky's Cello Concerto with the Metro-West Symphony Orchestra as the winner of their 2003 Youth Concerto Competition. In November of 2005, he performed Samuel Barber's Cello Concerto with Symphony Pro Musica, receiving a review in the Worcester Telegram and Gazette that stated: "It was the kind of performance one might hear live only once a decade." Nan-Cheng has toured Venezuela and Brazil in June of 2005 with New England Conservatory Youth Philharmonic Orchestra, and was invited back by Simon Bolivar Symphony Orchestra for solo concerto performances in June of 2006.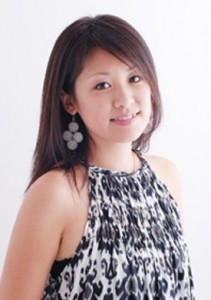 Mariko Furukawa
Japanese pianist Mariko Furukawa started to play the piano at the age of five. After winning numerous competitions in her native Japan, she decided to continue her musical career in the U.S. Since 2001 Mariko has won prestigious competitions and awards including First Prize at Dorothy McKenzie competition and Mannes concerto competition (NYC), Grand prix at the American conservatoire in Fontainebleau, the Third Prize at Porto International Piano Competition in Portugal and the Fourth prize at Kosciusko foundation Chopin competition. Ms. Furukawa has appeared in New York's major halls such as Carnegie Hall, Lincoln Center, The United Nations, Steinway salon both as a soloist and a collaborative pianist. Her performance of Chopin was broadcast at WQXR. She obtained Master's of Music degree from The Juilliard School in 2009, BM and PSD at Mannes College of Music where she studied with Jerome Rose and Jacob Lateiner.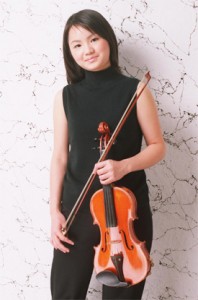 Yu-Ting Huang
Violinist Yu-Ting Huang, a native of Taiwan, performs frequent recitals at venues throughout Taiwan such as the National Recital Hall of Taiwan, and has appeared as soloist with the National Taiwan Symphony Orchestra.
Huang is also active as a chamber musician, participating in programs at the Norfolk chamber music festival, Kneisel Hall chamber music festival, and courses coached by Claude Frank, Peter Frankl, Seymour Lipkin, Todd Phillips, Ronald Copes, Ani Kavafian, Mathias Tacke, members of the Tokyo Quartet, member of Ying Quartet, member of Brantano Quartet.
Huang has been invited on tour to perform in the Asian Youth Orchestra, Pacific Music Festival Academy and Sapporo Symphony Orchestra during the summer. She was the principal violinist in the Pacific Music Festival New Music concert "Pacific Sounding." She has stood on internationally renowned performance venues such as Carnegie Hall, Kennedy center, Sapporo Kitara Hall, and the National Taiwan concert Hall.
Huang received her Master of Music and Artist Diploma from the Yale school of music, studying with Syoko Aki. Currently, she is a full scholarship and Fellowship DMA student at Rutgers, the State University of New Jersey, studying with Todd Phillips.
Huang had been awarded scholarship from the "Treasury of Taiwan Young Musicians Project."
Huang's most recent activities include participation at the Kneisel Hall Chamber Music Festival, Beethoven Institute under the guidance of Brantano String Quartet.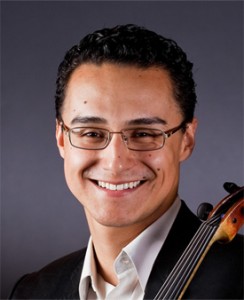 Raul Garcia
Colombian Violist Raul Garcia has established himself as one of the most promising artists of his generation. Career highlights include Assistant principal violist with the Colombia Symphony Orchestra during 2006-2009; Performances at Carnegie Hall, The National Arts Center and the Leonard Bernstein Memorial Stage. He is First prize winner of numerous competitions including the II Colombian Viola Competition; the concerto Competition in FOSJA, and the Yale School of Music Georgina Lucy Grosvenor Memorial Prize. An avid chamber musician, he appeared at the St. Lawrence Quartet Chamber Seminar, Yellow Barn, The NAC Young Artist Program, Pacific Music Festival, Innsbrook Institute, and The Perlman Music Program. Mr. Garcia holds a BM Degree from Juan N. Corpas University; as well as Master and Artist Diploma degrees from The Yale School of Music. Currently Raul pursues a Doctoral degree at Rutgers University with Philadelphia Orchestra Principal violist Choong-Jin Chang.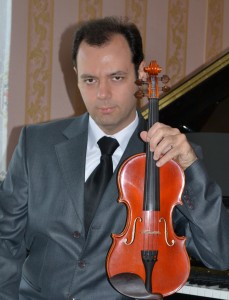 Alexander Anisimov
Alexander Anisimov was born in Orenburg (Russia) in 1975 into a musical family, and started his musical studies at the age of six at the Orenburg musical school. He graduated from the Russian State Music Academy (Class of Prof. Alexander Shisman) and also has got the postgraduate Diploma with Prof. Shisman.
Since 2000, he has regularly performed as a soloist and conductor with various orchestras in St. Petersburg, Moscow, Kazan (Tatarstan), Ufa (Bashkortostan), Astana (Kazakhstan) and others. Since 2010 to 2012 Alexander has worked in the National Symphony Orchestra (Ufa, Bashkortostan, Russia) as a concertmaster, soloist and a second conductor.
His repertoire as a soloist includes concertos of Vivaldi. Mozart, Paganini, Wieniawski, Khachaturian; sonatas by Beethoven & Brahms, works of Sarasate, Rachmaninoff, Kreisler, Tchaikovsky, Gershwin and many other composers.
In his conductor's repertoire are symphonies, divertissements and orchestral works of Haydn, Mozart, Mendelssohn, Shostakovich, J. Strauss, Dunaevsky etc.
Alexander was the first performer of works by contemporary composers and composes himself – Suite for Piano "Puppet Theatre", String Quartet, Fantasy for violin and orchestra based on the themes of Verdi's "Traviata", Poem for Flute and piano "Apparition", Suite "Concert Dances" for symphony orchestra.
In 2009 Alexander was admitted to the Association of Russian Composers. For his achievements in performing arts, he was awarded a grant from the Russian Musical Association, TV prize "Person of the Year", and Orenburg Governor's Prize.
He has also been the prize winner of the following International competitions: "Citta di Moncalieri" (1999, Italy); "Hopes, Talents, Masters" (2004, 2007, Bulgaria); "Valtidone Competition" (2005, Italy) and others. He was awarded prizes in various categories: "Solo performance (Violin)", "Chamber Ensemble", "Composition".
In 2011 Alexander has received his PHD. In May 2014 Alexander was graduated on Artist Diploma in Long Island Conservatory of Music (conducting).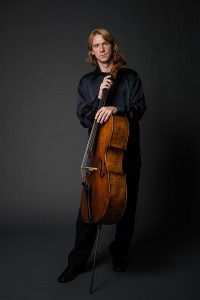 Sergey Antonov
Cellist Sergey Antonov enjoys a versatile career as a soloist and chamber musician. Critics throughout the world have hailed him as "destined for cello superstardom" -Washington Post, "combining formidable technique and an incredibly warm, penetrating and vibrant tone to a romantic musical sensibility to create music - making of a highest caliber" - Budapest Sun. After one of the Newport Festival concerts in RI, a critic wrote "... a performance with soaring phrases and a tone to die for." Sergey's performance of the Elgar concerto drew the critic of the Moscow's Daily Telegraph to write: "[he] is a musician who has his own inner space, where he submerges himself from the very first sound…who turns each phrase, every deeply felt sound into an event of his own inner monologue. The theme of this monologue is existential suffering; a change of intricately noted emotions, directly related to the unexplainable condition known as Spiritual Life." A Canadian critic wrote: "Antonov conveyed ...a world of expression from plaintive hope to existential pathos."
One of the recent reviewers wrote, " No virtuosic challenge is more than his equal."

After winning the Gold Medal in the 2007 International Tchaikovsky Competition in Moscow, Russia, Sergey has been touring extensively throughout Europe, Asia, North and South America performing in halls ranging from the Great Hall of Moscow Conservatory to Suntory Hall in Tokyo. He has collaborated with musicians such as Denis Matsuev, Bernadene Blaha, Kevin Fitz Gerald, Ekaterina Mechetina, Harve A' Kaoua, Carl Ponten, Dora Schwartzberg, John Lenehan, Colin Carr, Cynthia Phelps, Martin Chalifour, David Chan, among others, as well as his permanent piano partner Ilya Kazantsev. The duo has recorded several CDs of traditional cello-piano repertoire as well as their own transcriptions, recorded in their CD album Elegy.
Sergey is a member of the acclaimed Hermitage Piano Trio with Ilya Kazantsev and violinist Misha Keylin.

In addition to being the 2007 Tchaikovsky gold medal winner for cello, Antonov has been a recipient of the 2008 Golden Talent Award by the Russian Performing Arts Foundation as well as garnering top prizes at the Justuz Friedrich Dotzhauer Competition, Germany, David Popper International Cello Competition, Hungary, American String Teachers Association in Detroit. His chamber ensemble performances have also brought him honors from the Lyrica Chamber Music Series as their "Young Artist of the Year", and First Prizes from the Chamber Music Foundation of New England and the Swedish International Duo Competition.

Antonov collaborated with such maestros as Vladimir Spivakov, Dmitry Sitkovetsky Yan Pascal Tortilier, Mikhail Pletnev, Maxim Vengerov, Oue Eiji, Yuri Simonov, Christopher Zimmerman, Uri Bashmet, Jonathan McPhee, Yuri Botnari, Alexey Shabalin, among many others. He has made his conducting debut in the spring of 2014. Sergey frequently gives master classes to solo cellists and chamber music groups in colleges and universities throughout the world.

Born into a family of cellists, Sergey started playing cello at the age of five with his mother, Maria Zhuravleva, as his teacher. She has recently become the recipient of the National 2014 Teacher of the Year Award of Russia. He has studied at the Central Music School and has graduated from the Moscow Conservatory where studied under the renowned professor Natalia Shakhovskaya.

He holds an Artist Diploma from Longy School of Music in Boston where he worked with Grammy nominated cellist Terry King. While being a student at the Moscow Conservatory, Sergey was under the tutelage of M. Rostropovich.

Sergey has appeared on Russian National Television in performances with the Moscow Philharmonic in their "Stars of the 21st Century" series, and in live concerts on Boston's NPR radio station WGBH. His performances were also broadcast by NHK Japan.

He lives in New York with his wife Nika and son Noah.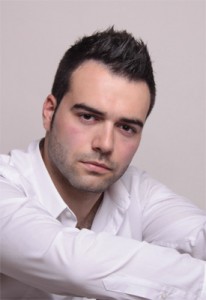 Jesús Gonzalez
After joining the Gustav Mahler Jugendorchester (GMJO) in 2008, Jesús became its Principal Violist and Soloist in 2010. With the GMJO he has performed in Switzerland, Germany, Austria, Luxemburg, Italy, Greece, Hungary, Liechtenstein, Spain, in halls such as the Musikverein of Vienna, Konzarpalatz of Frankfurt, Alte Oper of Luxemburg, Teatro Verdi of Pisa, Auditorio Nacional of Madrid, Teatro San Carlo of Naples, and Megaron of Athens, among others. Some notable conductors who he has performed under are Antonio Pappano, Herbert Blomstedt, Ingo Metzmacher, as well as soloists such as Han-Na Chang, Hakan Handerberger, and Leonidas Kavakos.
Jesús has been a prize winner of numerous competitions including the 2010 "Angel Muñiz Toca" prize and the Mannes College of Music of New York Presidents Award Scholarship. In 2009 he received the "Cajastur Young Artist" Scholarship and in 2008, he won the "CajaMadrid Chamber Music" and "Young Artist Intercentros" National competitions. He was also the winner of the "Young Soloist Competition" in León in 2007.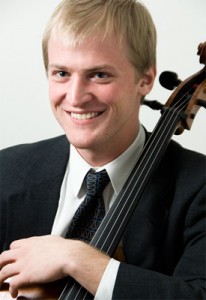 Daniel Mumm
Cellist Daniel Mumm received a Bachelor of Music degree from Indiana University and a Masters of Arts degree from the John J. Cali School of Music at Montclair State University. Prior to that, he attended the pre-college program at Manhattan School of Music. Daniel's recent concert engagements have included a solo appearance with the Orchester der Kuenstuniversitaet Graz (Austria). Daniel has been a participant in numerous music festivals including Bowdoin International Music Festival, Manchester Music Festival, and the Indiana University String Academy. An avid chamber musician, Mr. Mumm has performed in master classes for members of the Kronos, Guarneri, Borromeo, and Vermeer Quartets. Daniel has extensive experience with contemporary music, including performances of the works of Harry Partch featuring the composer's original instruments. He is also an active studio musician, and has recently recorded music for NFL films. Currently Daniel is pursuing a Doctor of Musical Arts degree at the Mason Gross school of the Arts at Rutgers University.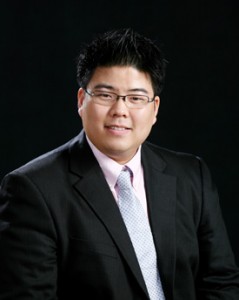 Hong Kiew Kim
Pianist Hong Kiew Kim has been described as a passionate, interesting and convincing musician. He continues to charm audiences in both U.S. and abroad with his commentated performances. His virtuoso transcriptions continue to dazzle audiences of U.S., Korea and Sweden since they were first heard over a decade ago. Mr. Kim has made several appearances in Carnegie Weill Recital Hall, Lincoln Center and the Steinway Hall in NY. Recently, he has given themed recitals of all Scandinavian piano works, all Romantic, all Mozart, all Chopin and all Beethoven recitals. He also appeared as soloist with the Vienna International Orchestra under the baton of Robert Lehrbaumer.
Aside from his piano performances, Mr. Kim devotes himself to teaching and choral conducting.
Mr. Kim has studied with artists such as Evelyne Crochet, Ilya ltin, Byron Janis, and Marc Silverman. He performed in master classes with Leif Ove Andsnes, Jean Efflam Bavouzet, Dang Thai Son, and Peter Takacs. He received his Masters Degree in Piano Performance from the Manhattan School of Music, and a Bachelor of Arts degree in English Literature and Music from Rutgers College, Rutgers University. Mr. Kim has been among the winners of the Bradshaw and Buono International Piano Competition.
Hong Kiew Kim's future engagements include performances and teaching at the New York Piano Festival, recitals in New Brunswick and Bedminster NJ, and NYC.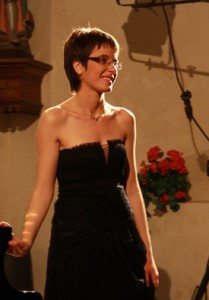 Fanny Azzuro
Fanny Azzuro has won top prizes at numerous international piano competitions and often performs solo recitals and chamber music with world renowned musicians. She is currently studying at the Paris Conservatoire National Supérieur de Musique with Théodore Paraskivesco, as well as with Pierre-Laurent Aimard for chamber music repertoire. In 2009, she came in as the Fourth Prize winner in the Cincinnati World Piano Competition and performed at several prestigious festivals in France. She performed in a creative duo with the famous jazz pianist Tigran Hamasyan, and gave recitals in Provence. She was also awarded the SACEM prize at the Piano Campus competition.
In 2008, she won First Prize at the Vulaines-sur-Seine competition and appeared with the French Alps Orchestra, playing the Schumann Concerto. Fanny graduated from both Paris and Montpellier Conservatoires de Région with Olivier Gardon and Suzan Campbell. She has worked with eminent teachers: Aldo Ciccolini, Jacques Rouvier, Jean-François Heisser, Jay Gottlieb, Pascal Devoyon, Tuija Hakkila.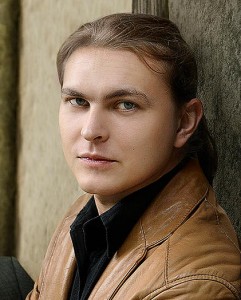 Ilya Kazantsev

"[Mr. Kazantsev] ranged over the keyboard with unruffled mastery."
-Robert Battey, The Washington Post, December 2013
Ilya Kazantsev, a fresh and exciting presence on the international music scene, has been hailed by The Washington Post as "virtually flawless." He has performed extensively with orchestras in Russia and the United States, as well as appearing in recital in Germany, Japan, Italy, France, Canada, Ukraine, Belarus, Russia, the United States, and Slovenia. His many awards and honors include first prize at the Nikolai Rubinstein International Competition (Paris); he also won the International Chopin Competition (Moscow) and the 2007 & 2008 World Piano Competitions (Cincinnati).

In 2014, Ilya was invited to join the esteemed Hermitage Piano Trio, which also includes the renowned soloists Misha Keylin (violin) and Sergey Antonov (cello). An enthusiastic advocate of contemporary music, Ilya has presented numerous premieres of works by contemporary American, Russian, and Eastern European composers, many of which have been dedicated to him. His advanced studies have included working with such prominent contemporary music specialists as Jay Gotlieb, Mark Ponthus and the legendary composer and conductor Pierre Boulez, who praised Ilya for his thoughtful performance of composer's Douze Notations.


Ilya began his music studies in his native Moscow and at the age of nine was accepted as a student of Valeriy Pyasetsky at the Central Music School at the Tchaikovsky State Conservatory. Subsequently, he moved to the United States in 2002 to continue his studies at the Mannes College of Music and the Manhattan School of Music, working with Arkady Aronov. He currently resides in New York City.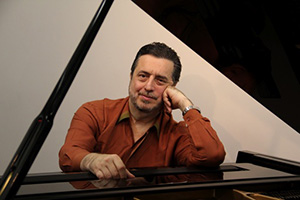 Carlos Franzetti
From symphonies to big band jazz, from chamber works to Latin American music and film scores – Carlos Franzetti has no limits. Nominated this year for a Latin Grammy® Award in the category of Best Tango Album and as Producer in the category of Best Album of the Year, Carlos Franzetti won this prestigious award in 2013 for Best Classical Composition, having previously been a 2012 Latin Grammy® Nominee in the category of Best Classical Composition, a 2012 Grammy® Nominee in the category of Best Instrumental Arrangement, the 2009 Latin Grammy® Award Winner in the category of Best Instrumental Album, a 2007 Latin Grammy® Nominee in the category of Best Instrumental Album, a 2006 Grammy® Nominee in the category of Best Classical Contemporary Composition for his opera, "Corpus Evita," a double 2003 Grammy® Nominee for "Poeta de Arrabal," in the categories of Best Classical Crossover Album and Best Instrumental Arrangement, and the 2001 Latin Grammy® Award Winner for Best Tango Album, "Tango Fatal." Carlos Franzetti has received many outstanding grants and awards, including the 2002 New Jersey Council on the Arts Composers' Fellowship, The Yamaha Composers Award, The Trofeu Laus from Spain, a Clio Award, The Prensario Award, ACE Award and Premio Konex from Argentina, The Foundation for New American Music, The Penfield Music Commission Project, several grants from Meet The Composer, and two gold records. Mr. Franzetti adjudicates for SGAE and the Mid-Atlantic Arts Foundation.
Carlos Franzetti's compositions and arrangements have been performed and recorded by the International Sejong Soloists, the New World Symphony, the Youth Orchestra of the Americas the Moab Music Festival, and the Queens Symphony Orchestra; he conducted his arrangements of music by Steve Kuhn (with Mr. Kuhn performing) at the Caramoor Festival and at the Israel Opera in Tel Aviv. Collaborations with major orchestras include the opening concert of the VI International Music Festival in Buenos Aires at the Teatro Colon with the Orquesta Filarmonica, the Boston Pops, the National Symphony (Washington, D.C.), the St. Louis Symphony, the Brooklyn Philharmonic, the Buffalo Philharmonic, the National Symphony of Mexico, the National Symphony of Argentina, the Orquesta Filarmonica de Buenos Aires, the Czech National Symphony, the City of Prague Philharmonic, the Modus Chamber Orchestra, the Janacek Philharmonic, the Bratislava Radio Orchestra, and orchestras in Mexico, Venezuela, Spain, Sweden, Norway and France. He performs and records with jazz artists Arturo Sandoval, Steve Kuhn, David Sanchez, Terence Blanchard, Jane Monheit, Jon Faddis, Ruben Blades and Paquito D'Rivera and scores films for major producers and directors Sidney Lumet, Alan Pakula, Jerry Schatzberg, Harry Belafonte, and Edgardo Cozarinsky. Credits include "La Pelicula del Rey," "Q&A," "Misunderstood," "Beat Street," "The Mambo Kings," "See You in the Morning," "Dans le rouge du couchant," "Ronda Nocturna," and "Tango Fatal."
His latest recordings are his solo piano CD, "In the Key of Tango" on Sunnyside Records, a collaborative recording with Ruben Blades, "Tangos," also on Sunnyside Records, and a DVD on Amapola Records, "Circo de Arrabal." Recent recordings include "Pierrot et Colombine" on Sunnyside Records, "Alborada" on Amapola Records, "Puñaladas en el alma" with the renowned Catalonian singer Dyango on Sony Records, "Unica" with Puerto Rican singing sensation India, "Piano Concerto No. 1 and Symphony No. 2" with the City of Prague Philharmonic Orchestra on Amapola Records and a solo jazz piano recording, "Mambo Tango," on Sunnyside Records. Other recordings include "Film Noir" on Sunnyside Records, "Duets" with Eddie Gomez on Acqua Records, "The Carlos Franzetti Trio Live In Buenos Aires" on Amapola Records, "Graffiti" on Sonorama Records, and "Scenes of Spirits" with the Graham Ashton Ensemble on Signum Records. 2006 recordings include "Songs for Lovers" on Chesky Records. 2005 recordings by Carlos Franzetti are "Corpus Evita, an Opera in Two Acts" on Amapola Records and "Carlos Franzetti and the Jazz Kamerata," on Chesky Records. 2004 recordings are his double CD, "Reflexiones," on Amapola Records, "Promises Kept" with Steve Kuhn on ECM Records, and the Grammy® Nominee/Latin Grammy® Winner "Coral" with David Sanchez on Sony Records. "Carlos Franzetti - You Must Believe in Spring" was released on Amapola Records in May 2003 and EMI Argentina in October 2004. He conducted, arranged, and co-produced the 1997 Grammy® Award Winner, "Portraits of Cuba" for Chesky Records. Music Director of Orquesta Nova, his 2 CDs for Chesky Records received international critical acclaim. Several works are included on "Images Before Dawn – Symphonic Music of Carlos Franzetti," for Premier Recordings. World premieres and recordings of his compositions include "Gauchito and the Pony," an opera for children, "Concierto del Plata" for guitar and chamber orchestra, released by Klavier Records, "Millenium Concerto for Flute and Orchestra," commissioned by the Municipal Government of Buenos Aires, Argentina and premiered in September 1999, and "Piano Concerto No. 2," commissioned by the Orquesta Filarmonica de Buenos Aires as part of their 50th Anniversary season and premiered in September, 1996 at the Teatro Colon. This concerto is included on a CD with "Sinfonia No. 1," released by Amapola Records. Sinfonia No. 1" was performed by the Bratislava Radio Orchestra in November 2000, the Orquesta Filarmonica de Buenos Aires at the Teatro Colon in July 2003, and the National Symphony of Mexico in February 2005. Other projects include the 1999 Grammy® Award Nominee, "Remembrances," for Chesky Records, the 1999 Grammy® Award Nominee, "Obsesion," for Sony Records, produced by Branford Marsalis, "Tango" with the Stockholm Jazz Orchestra, released on DMP Records, and the 2002 Latin Grammy® Nominee "Tango Bar" on Chesky Records.
A citizen of the United States for many years, Carlos Franzetti was born in Buenos Aires, Argentina in 1948. He began his musical studies at age 6 at the National Conservatory in Buenos Aires. He later studied piano privately with Guillermo Iscla and Lucia Maranca and composition with Manuel Juarez. During the years 1971 - 1973 he studied composition with Humberto Hernandez Medrano in Mexico. After coming to the United States in 1974, he studied conducting with Vincent LaSelva at the Juilliard School.
Biographies of Carlos Franzetti are listed in Latin American Classical Composers Second Edition by Michel Ficher and Furman Schleifer, published by Scarecrow Press, Maryland 2002, The New Grove Dictionary of Jazz, published by MacMillan Press Ltd., London 1988, Diccionario de Compositores, published by La Nacion/Corregidor, Buenos Aires 1998, and Chronology of Western Classical Music Volume 2 by Charles J. Hall, published by Rutledge Great Britain Taylor & Francis Books, Inc.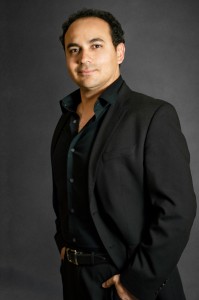 José Adán Pérez
A native of Mazatlán, México, Baritone José Adán Pérez is an alumnus of Los Angeles Opera Plácido Domingo's Young Artist Program, the AVA of Philadelphia, Aspen Opera Theater, IVAI Israel and SIVAM Opera Program.
James Jorden, the New York Observer: "Among a strong ensemble, the standout was José Adán Pérez as the barber Figaro, with a bright buzzy baritone and an innovative take on the character, here a middle-aged single dad."
Zachary Woolfe, the New York Times: "As Sergeant Belcore, José Adán Pérez had an impressive New York debut, his voice smooth, clear and rich."
George Loomis from Financial Times: "The voice is firm and agreeable, his Italian is fluent and, without overacting, he amusingly made Dandini into the ham he is meant to be."
After his operatic debut in LA Opera as Marcello in "La Bohème" under the baton of Maestro Plácido Domingo, he has collaborated with NY City Opera, Teatro Massimo Bellini in Italy, Theater Basel in Switzerland, Bellas Artes Opera, PORTopera of Maine, LoftOpera, Opera North of New Hampshire, LA Philharmonic, Phoenix Symphony, LA Opera Orchestra, LA Master Chorale, Pasadena Pops, Colburn Chamber Music Society, OFUNAM, Bellas Artes Opera Orchestra, Jalisco Philharmonic, Michoacan Symphony, Yucatan Symphony, Sinaloa Symphony of the Arts, Angela Peralta Chorus, to mention some.
Also performing at the Aspen Music Festival, Cervantino International Arts Festival, Guadalajara Cultural Festival, Credomatic Music Festival of Costa Rica and Sinaloa Cultural Festival.
Mr. Pérez has been part of important recording projects like the world premiere of Daniel Catán's "Il Postino" with the Los Angeles Opera releasing a DVD later broadcasted on PBS Great Performances; the american premier of Schreker's "Die Gezeichneten" with Los Angeles Opera; Fauré's Requiem with the UNAM Philharmonic Orchestra; and the recent Latin Grammy nominated album "Únicamente la Verdad" a contemporary opera composed by Gabriela Ortiz.
His voice has served the distinguished batons of Plácido Domingo, James Conlon, Gustavo Dudamel, Michele Mariotti, Grant Gershon, Israel Gursky, Angel Romero, Michael Christie, Will Humburg, Nikša Bareza, Marco Balderi, Eduardo Diaz-Munoz, Douglas Kinney Frost, Marco Parisotto, Enrique Patrón, José Areán, Ivan Lopez Reynoso, Juan Carlos Lomónaco, James Demster, among several.

Before beginning his musical pursuits, Mr. Pérez, a Bachelor of Science from Tecnológico de Monterrey, worked several years in the automobile industry as a quality engineer.
Misha Keylin
Since his New York Carnegie Hall début at age 11, violinist Misha Keylin has continued to earn critical and audience acclaim for his exuberant musicality, keen interpretive insight and rare tonal beauty. Noted for a wide range of repertoire, Keylin attracted particular attention with his world-premiere three CD series, featuring all seven of Henry Vieuxtemps' Violin Concertos, released on the Naxos label. These recordings have sold over 120,000 copies worldwide and have garnered numerous press accolades and awards (such as "Critic's Choice" by The New York Times,Gramophone and The Strad). His most recent CD features Vieuxtemps' violin showpieces with orchestra (Naxos 8.570974) and its continued success has led Naxos to invite Keylin to record the remaining orchestral works of Vieuxtemps.
In a career already spanning forty-five countries on five continents, Keylin has collaborated with such distinguished conductors as Roberto Benzi, Irwin Hoffman, Eliahu Inbal, Vakhtang Jordania, Theodore Kuchar, Fabio Mechetti. John Nelson, Marco Parisotto, Alexander Schneider, Jörg-Peter Weigle, Bruno Weil and Takuo Yuasa. He has been guest soloist with the St. Petersburg Philharmonic, Leipzig Chamber Orchestra, Marseille Philharmonic, NDR Philharmonic of Hannover, Budapest Philharmonic, Israel Sinfonietta, Bologna Philharmonic, Amadeus Chamber Orchestra, Brandenburg Philharmonic and the Philharmonic Orchestra of Chile; in addition, he has performed with the National Symphony Orchestras of Ukraine, Latvia, Colombia, Costa Rica and other noted ensembles. United States concerto and recital appearances have brought him to major venues in New York, Los Angeles, Chicago, Washington D.C., Seattle, Charlotte, Indianapolis, Atlanta, Denver and San Francisco.
As an active chamber musician, he is a regular guest artist with the Jupiter Symphony Chamber Players and has participated at the Aspen, Ravinia and Australian Chamber Music festivals, amongst others. In 2011, Keylin became a founding member of the Hermitage Piano Trio together with renowned soloists - Sergey Antonov (cello) and Ilya Kazantsev (piano).
Misha Keylin began musical studies with his mother in St. Petersburg, Russia. He immigrated to the USA at nine and was immediately accepted as a student by the legendary Dorothy DeLay at The Juilliard School. After winning New York's coveted Waldo Mayo Award as "Best Young Performer of the Year," Keylin went on to capture top prizes in the prestigious Hannover (Germany), Paganini (Italy), Sarasate (Spain) and Viña del Mar (Chile) competitions. Keylin has been a Career Grant recipient of the Clarisse B. Kampel Foundation and he currently resides in New York and performs on a violin made by Antonio Gagliano in 1831 and a bow made by Dominique Peccatte.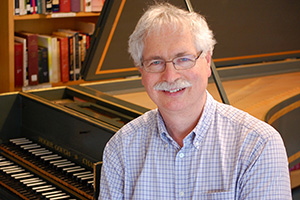 Arthur Haas
Arthur Haas, harpsichordist, is one of the most sought-after performers and teachers of Baroque music in the U.S. today. He holds a master's degree in historical musicology from UCLA, where he studied harpsichord with Bess Karp. He also studied with Albert Fuller at The Juilliard School and with Alan Curtis in Berkeley and in Amsterdam.
Mr. Haas was awarded the top prize in the Paris International Harpsichord Competition in 1975, and then lived for a number of years in France, performing in many of the major European early music festivals and teaching at the Ecole Nationale de Musique in Angoulême. While in Paris, he joined the famed Five Centuries Ensemble, known for its performances and recordings of both early and contemporary music. In 1985, his formal American debut at Lincoln Center's Alice Tully Hall was highly praised by the New York Times.
He is a member of the Aulos Ensemble, one of America's premier early music ensembles whose recordings of Bach, Vivaldi, Telemann, and Rameau have received critical acclaim in the press. He is also a member of Empire Viols and Aula Harmoniæ. Mr. Haas participated in the first recording of the Bach Goldberg Variation Canons with Alan Curtis, and has also recorded suites for two harpsichords by Gaspard LeRoux with William Christie. His solo CD's of Pièces de clavecin by Jean-Henry D'Anglebert, Suites de clavecin of Forqueray, music by Henry Purcell and his contemporaries, and suites of Jacquet de la Guerre and François Couperin have been widely praised in the press.
Known for his expertise as a continuo player, Mr. Haas has toured with such distinguished early musicians as Marion Verbruggen, Jaap ter Linden, Julianne Baird, Laurence Dreyfus, Bruce Haynes, and Wieland Kuijken. In 2001, he recorded Bach's Cantata #199 and songs of Henry Purcell with the soprano Dawn Upshaw.
Annual summer workshop and festival appearances take him to the International Baroque Institute at Longy, and the Amherst Early Music Festival, where he has served as artistic director of the Baroque Academy since 2002. Mr. Haas is professor of harpsichord and early music at Stony Brook University, where he directs the award winning Stony Brook Baroque Players, and is also on the faculty of the Mannes College of Music and Juilliard's recently created historical performance program. In Fall 2012, he will begin teaching harpsichord and early music courses at the Yale School of Music.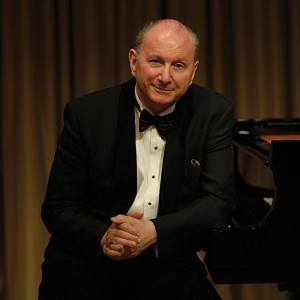 Jerome Rose
JEROME ROSE, hailed as "the Last Romantic of our own age" and one of America's most distinguished pianists, has been heard in major concert halls across five continents. A Gold Medalist from the International Busoni Competition, Mr. Rose began his international career while still in his early twenties. His catalogue of critically acclaimed recordings on Medici Classics includes the Liszt Concerti with the Budapest Philharmonic, Liszt's Transcendental Etudes, the Complete Schumann Sonatas, "Davidsbundlertanze", and "Kreisleriana", the Last Three Beethoven Sonatas, and the Complete Ballades & Fantasy of Chopin. The complete Chopin Sonatas are released on Sony. In addition, on Medici Classics are the Schubert Posthumous Sonatas and Wanderer Fantasie; a Liszt album featuring the B minor Sonata, Don Juan Fantasy and Mephisto Waltz; and a Brahms recording of Sonata No. 3, and the Variations and Fugue on a Theme by Handel. Medici has also issued the re-release of Mr. Rose's Prix du Disque recording of Liszt's "Years of Pilgrimage".
In addition Medici has released Mr. Rose's first DVD recordings, already highly acclaimed by the international press: The Four Ballades and Sonatas No. 2 and 3 of Chopin; the Sonatas of Beethoven, Opp. 101, 109, 110, and 111; an all-Schumann DVD: Humoreske, Fantasie, and Carnaval; and an all-Liszt DVD recording including the Sonata, Bénédiction, Funérailles, Petrarch Sonnets, and Vallée d'Obermann; and an all-Schubert DVD of the Last Four Sonatas.
Jerome Rose has appeared with such orchestras as the Berlin Philharmonic, Munich Philharmonic, Vienna Symphony, and Santa Cecilia, Rome. Jerome Rose has appeared with such orchestras as the Berlin Philharmonic, Munich Philharmonic, Vienna Symphony, and Santa Cecilia, Rome. A frequent visitor to London, he has appeared with the London Philharmonic, London Symphony, and the Royal Philharmonic.
An all-Brahms recording of Sonata No. 3, Klavierstücke, Rhapsodies, Fantasies and Intermezzi was released on DVD and Blu-Ray in the Fall of 2011. A second all-Schumann recording in Blu-ray format was released in Fall 2012 and includes Kreisleriana and Davidsbündlertänze. A second Beethoven Sonata recording was released in the Fall of 2013.
Mr. Rose's recordings of Franz Liszt for Vox were awarded the Grand Prix du Disque from the Liszt Society of Budapest, and the Ministry of Culture of Hungary conferred on him the Franz Liszt Medal for organizing the comprehensive Liszt Centennial Celebration in Washington D.C. in 1986. Previously, he served as the Artistic Director of the International Festival of the Romantics in London, and the Schubert and Brahms Festival at the Library of Congress.
Jerome Rose has appeared with such orchestras as the Berlin Philharmonic, Munich Philharmonic, Vienna Symphony, and Santa Cecilia, Rome. Jerome Rose has appeared with such orchestras as the Berlin Philharmonic, Munich Philharmonic, Vienna Symphony, and Santa Cecilia, Rome. A frequent visitor to London, he has appeared with the London Philharmonic, London Symphony, and the Royal Philharmonic. In addition he has been soloist with most major U.S. orchestras such as the Chicago Symphony, San Francisco Symphony, Houston, Baltimore & Atlanta. Conductors include Sir Georg Solti, Wolfgang Sawallisch, Sir Charles Mackerras, Stanislaw Skrowaczewski, Sergiu Comissiona, David Zinman, Hans Vonk, Robert Spano, and Christian Thielemann.
He was a pupil of Adolph Baller when, at the age of 15, he debuted with the San Francisco Symphony. A graduate of the Mannes College and the Juilliard School of Music, Jerome Rose studied with Leonard Shure and Rudolf Serkin at Marlboro. In 1961 he was a winner of the Concert Artists Guild award and was also a Fulbright Scholar in Vienna.
Mr. Rose has given masterclasses at the Moscow Conservatory, the Chopin Academy in Warsaw, the Mozarteum in Salzburg, the Munich Hochschule, and the Toho Conservatory of Music in Tokyo, Japan. He is on the Faculty of the Mannes College of Music and is Founder/Director of the International Keyboard Institute & Festival held every summer in New York City. Mr. Rose's performances at the Festival have been recorded by WFMT Chicago and NPR for worldwide radio broadcast.
Mr. Rose has served on the Faculties at the Ecole Normale de Musique in Paris, the Tel-Hai Festival in Israel, the Duszniki Chopin Festival and the Salzburg Mozarteum. He is also in demand as a juror at international competitions including the E-Competition (USA), Beethoven (Germany), Liszt (Netherlands), Hamamatsu (Japan), Maria Canals (Spain) and Chopin (Poland) Competitions. He has toured major cities in China, giving recitals, masterclasses and promoting his 4 volume book "Becoming a Virtuoso".
Last season included masterclasses and recital appearances in the United States, Europe, Japan, Korea and Taiwan. This season includes concerts and masterclasses in Germany, Russia, and the United States. Mr. Rose was awarded an Honorary Doctorate in Music from the State University of New York for his lifetime achievement in music.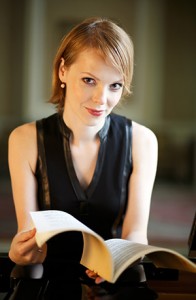 Magdalena Baczewska
ABOUT DAVID KRAKAUER
"David Krakauer is such an overwhelmingly expressive clarinetist who moves so seamlessly between different genres that for a minute you'd almost think that there's no appreciable difference between jazz, klezmer and formal classical music."
- The Wall Street Journal

Only a select few artists have the ability to convey their message to the back row, to galvanize an audience with a visceral power that connects on a universal level. David Krakauer is such an artist. Widely considered one of the greatest clarinetists on the planet, he has been praised internationally as a key innovator in modern klezmer as well as a major voice in classical music.
In 2015 he received a Grammy nomination in the Chamber music/small ensemble category as soloist with the conductorless orchestra "A Far Cry", and a Juno nomination for the CD "Akoka" with cellist Matt Haimovitz. New releases include his 2015 album "Checkpoint" with his band Ancestral Groove and "The Big Picture" on his own label, Table Pounding Records in 2014.
Highlights of Krakauer's lauded career include performances with the Kronos, Emerson, Tokyo, Orion and Miro String Quartets; performing during the inaugural season of Carnegie Hall's Zankel Hall with renowned jazz pianist Uri Caine; an eight-year tenure with the Naumburg Award-winning Aspen Wind Quintet and performing in the International Emmy Award-winning BBC documentary Holocaust, A Music Memorial from Auschwitz.

Krakauer is in demand worldwide as a guest soloist with the world's finest orchestras including the Amsterdam Sinfonietta, Baltimore Symphony, Brooklyn Philharmonic, Detroit Symphony, the Weimar Staatskapelle, the Phoenix Symphony, the Dresdener Philharmonie, and the Seattle Symphony. Krakauer's discography contains some of the most important clarinet recordings of recent decades. The Dreams and Prayers of Isaac the Blind (Osvaldo Golijov and the Kronos Quartet/Nonesuch) received the Diapason D'Or in France. The Twelve Tribes was designated album of the year in the jazz category for the Preis der Deutschen Schallplattenkritik. He has also recorded with violinist Itzhak Perlman/ the Klezmatics (Angel) and Dawn Upshaw/ Osvaldo Golijov (Deutsche Gramophon). His unique sound can be heard in Danny Elfman's score for the Ang Lee film Taking Woodstock and throughout Sally Potter's The Tango Lesson.
Writer Mark Stryker hinted at the visceral nature of Krakauer's performance in his Detroit Free Press review:
"Krakauer played with astounding virtuosity and charisma. A furiously improvised cadenza leapt between low and high registers in a way that suggested John Coltrane, building to an excited peak. After the concerto he also offered an encore, improvising by himself with an air of ritual, before playing a swift klezmer dance with the orchestra."
ABOUT KATHLEEN TAGG
"...this is a superbly turned out artist, a performer broaching scant detour between conception
and delivery, and a musician of such grand endowment and unsparing discipline...with which she honored her natural gift and therefore the music she plays and the public she plays to…"
- New York Concert Review, Carnegie Hall Debut Recital
South African-born pianist, composer and producer Kathleen Tagg, praised for her combining of "outstanding technique with deep musicality", has been based in New York since 2001. She has performed on four continents in leading venues such as Carnegie Hall, had her original music performed in venues such as New York's Lincoln Center, appeared on a host of classical, world music and multi-genre recordings and produced numerous CDs and inter-disciplinary programs from South Africa to Los Angeles. Her work has been released on record labels NAXOS, Universal, Table Pounding Records and Gallo Africa. A 2014 SAMA nominee for best classical album, she has performed in recital with some of the world's leading musicians, and the remarkable breadth of her collaborations defines her multi-faceted career.

Kathleen has performed often in venues such as Lincoln Center, Symphony Space and multiple Carnegie Hall recitals, including her 2004 acclaimed solo recital debut as winner of the Artist International auditions, when she was described by critics as "a superbly turned out artist, a performer broaching scant detour between conception and delivery, and a musician of such grand endowment" (NY Concert Review). Since then she has appeared frequently at consulates and cultural organizations across the United States, and has performed live on WQXR New York and WGBH Boston. Known for her explorations in sound color, whether in virtuosic standard repertoire or her own creations exploding the sound of the piano from the inside out using extended techniques, she crosses boundaries seamlessly. In 2014 she released a recording of the songs of Jake Heggie with American soprano Regina Zona on the NAXOS label, and is currently recording a new electro-acoustic project, Breath and Hammer, with her duo partner, Grammy-nominated clarinetist David Krakauer.

Kathleen completed her studies at the University of Cape Town, Mannes College of Music and the Manhattan School of Music in New York, which awarded her the Helen Cohn Award as the outstanding Doctoral graduate, and where she taught for four years.In 2014 she was appointed to the faculty of SongFest at Colburn in Los Angeles.

With her great interest in new music, Kathleen has premiered countless works, many written for her. In 2012 she released the SAMA-nominated album Soul of Fire with singer Zanne Stapelberg, featuring her work as pianist, arranger, producer and music director. They launched a new Afrikaans show, Spieël Speel, in 2013, featuring all-new original songs with lyrics by leading South African luminaries. Music from Soul of Fire was also used on Deon Meyer's new film, Die Laaste Tango, and Kathleen's arrangement and performance were featured on the soundtrack, released on Gallo Africa in 2013.

Recent performances include her and Sophie Jaff's Orchestrated Songs at Lincoln Center in New York, performances and workshops in India and USA with the Sabina Rakcheyeva Ensemble, and the release of the group's debut album, and Allora and Calzadilla's critically acclaimed Stop, Prepare, Repair at New York's Gladstone Gallery. She recorded the music of Pulitzer prizewinner Tom Kitt for the Broadway Lullabies Project, and performed on Broadway at the Stephen Sondheim Theatre at the launch in 2012. She launched a new project with South African jazz pianist Andre Petersen in July 2015 with a multi-city tour of South Africa. The project aims to reimagine the idea of what a piano duo sounds like, creating completely new arrangements of South African jazz standards, original tunes and traditional melodies using extended techniques and virtuosic writing. Her musical Erika's Wall, created with Sophie Jaff, received its premiere run in Chicago in 2010 by The Music Theater Company, and she was named a fellow of the Dramatist Guild of America in 2014/15.

"It is Tagg, the ever consummate professional that emerges as the real star of the show. Her artistic integrity and musical reliability remain undimmed throughout as she coaxes an ever-changing kaleidoscope of colour from the piano where languidly sensuous moments intertwine with flashes of tempestuous fire and eloquently spaced silences. Grippingly executed martellato passages, offset against arpeggio flourishes and chord punctuations display Tagg's complete mastery of the flamenco idiom."
- CUE Magazine
"It is lovely to watch Tagg and Krakauer playing from the same invisible page where mood and phrasing are written. Their synergy of interpretation travels immediately to the audience… After the last note of the enchantment had faded, no-one wanted to come out of meditation."— Andy Wilding, Fine Music Radio ​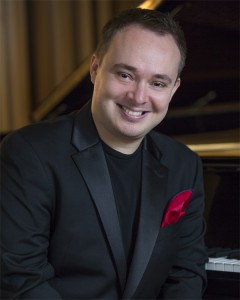 Matei Varga
Pianist Matei Varga is established as one of the leading young artists of his native Romania. He has performed at major venues around the world, among them Carnegie Hall (New York), the Auditorium du Louvre and Salle Gaveau (Paris), Konzerthaus (Berlin), the Romanian Athenaeum and the Radio Hall (Bucharest), Royal Dramatic Theater (Stockholm) and Casals Hall (Tokyo). Mr. Varga is a prizewinner of numerous international competitions, including the Young Concert Artists International Auditions, the Maria Canals Competition in Barcelona, the Porto International Piano Competition and the George Enescu Competition in Bucharest. International reviewers described his performances as "magical" (Süddeutsche Zeitung), "elegant" (The Hartford Courant), "masterful" (New York Concert Review), while Harry Rolnick of ConcertoNet called Mr. Varga a "fearless performer". His recent CD released by Naxos and produced by multiple Grammy winner Max Wilcox, with piano music by George Enescu, was received enthusiastically by critics who wrote that "Varga makes a vivid impression" (Fanfare) and "tears into the sinew of this music with great bite and forcefulness" (American Record Guide) declaring the recording a "must" (Ritmo, Spain). During the 2012-2013 season he will present recitals all over the world with the complete piano works of Dinu Lipatti.
Mr. Varga has also participated in various prestigious music festivals, including the International Keyboard Festival in New York City, the Music Festival of the Hamptons, Festival de Sintra (Portugal); Festival dei Due Mondi (Spoleto, Italy), Young Euro Classics (Berlin), Festival Européen "Jeunes Talents" (Paris) and the "Hariclea Darclée" and "George Enescu" International Festivals in Romania. He has collaborated with such artists as soprano Mariana Nicolesco, flautist Carol Wincenc, pianist Ben Schoeman and conductors Otto-Werner Mueller, Edward Cumming, Eduard Zilberkant, Ludovic Bacs and Adrian Sunshine, among others. He appeared as a soloist with the "George Enescu" Philharmonic, the Hartford Symphony, the Romanian National Radio Orchestra, Manhattan Chamber Orchestra, Porto National Orchestra, and the Morocco Philharmonic.
Matei Varga graduated from the National University of Music in Bucharest, and received a Master of Music degree and a Professional Studies Diploma from New York's Mannes College of Music. He studied with Pavlina Dokovska, Sandu Sandrin, Ana Pitis, Ioana Minei and participated in Master Classes presented by Murray Perahia, Richard Goode and Raoul Sosa. Mr. Varga lives in New York City, where he is a teacher at the Lucy Moses Music School and the Project Manager of the Vendome Prize Piano Competition. He is a movie aficionado, a devoted fan of actress Meryl Streep, as well as a passionate follower of the Romanian New Wave.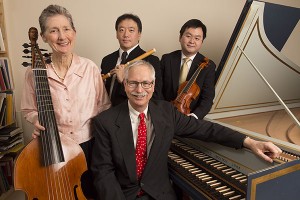 Gold & Glitter
Shining a Light on Baroque Music
Sang Joon Park – Baroque flute
Daniel Lee – Baroque violin
Martha McGaughey – Viola da gamba
Arthur Haas – Harpsichord
From the canals of Venice and music salons in German courts to the bright candlelit halls of Versailles, the early music ensemble Gold and Glitter shines a new light on 17th- and 18th-century masterpieces of the Baroque era. Our aim, through great attention to detail and emphasizing historical performance practices, is to perform this music with flair, virtuosity, and passion in order to understand the composers' intentions and make audiences love this music as much as we do. The four members of the ensemble, all with different backgrounds, studied in Europe and the US and now perform and teach all over the world. Their love and respect for this music brought them together in this great exploration of music from Bach's time and before.
ARTIST BIOS
Flutist Sang Joon Park was the 3rd recipient of the prestigious Samuel Baron Prize awarded at the SUNY Stony Brook University where he received his Doctor of Musical Arts Degree under Carol Wincenc. He studied with distinguished flutists such as Wilbert Hazelzet, Sandra Miller, Janet See, Jed Wentz, Linda Chesis, Judith Mendenhall and Thomas Nyfenger, and participated in Amherst Early Music Festival, International Baroque Institute at Longy, Vancouver Early Music Programme, and Bunnik Traverso Workshop. He is the artistic director of Aula Harmoniae, and performs regularly with several Baroque chamber groups including Rossignol Amoureux, Flying Forms, Ensemble La Sylva, Newton Baroque, La Donna Musicale, Catacoustic Consort, Bacchanalia Baroque, Empire Viols, Bach Vespers at Holy Trinity, Concert Royal, and The Grand Tour Orchestra, with performances in Canada, the Netherlands, Peru, South Korea, Taiwan and the United States. Mr. Park researches Spanish Baroque music at the Patrimonio Nacional Archivo y Biblioteca de Palacio Real de Madrid, Biblioteca Nacional de España, Real Conservatorio Superior de Música de Madrid, Biblioteca Histórica Municipal de Madrid, Biblioteca Musical Municipal de Madrid, Real Biblioteca del Monasterio San Lorenzo de El Escorial, and the Royal Library (Koninklijke Bibliotheek) at the Hague, Netherlands.

Period violinist Daniel S. Lee enjoys a varied career as a soloist, leader, chamber musician, and teacher. Praised for his "ravishing vehemence" and "soulful performance" (New York Times), he has performed as a soloist and
concertmaster with the Early Music New York, New York Baroque Incorporated, Quodlibet Ensemble, San Francisco Bach Choir, Trinity Baroque Orchestra, and Yale Schola Cantorum. He has founded and co-directs the Sebastians, a period
ensemble lauded for its "well-thought-out articulation and phrasing" (Early Music Review) and "elegant string playing" (Early Music Today). As a violino piccolo specialist, he frequently appears as a soloist in Bach's first Brandenburg Concerto and
Cantata 140, and has given the modern-day premiere of his own transcription of Johann Pfeiffer's concerto. He is on the violin, viola and chamber music faculty at Connecticut College and University of Bridgeport.
Martha McGaughey, viola da gamba, spent many formative years in Europe where she studied both with Jordi Savall in at the Schola Cantorum in Basel, and with Wieland Kuijken in Brussels. While living in Paris she was a member of the Paris-based Five Centuries Ensemble, known for its performances of both early and contemporary music. She has performed with the Waverly Consort, Concert Royal, the Aulos Ensemble, and the New York Collegium. Ms. McGaughey collaborated with the British viol consort, Phantasm, in several concerts and a CD of the consort music of William Byrd. She is a founding member of the New York based Empire Viols. She has also recorded for the Fonit Cetra and Erato labels and for EMI. Ms. McGaughey has taught at the Ecole Nationale de Musique in Angoulême (France), at the Eastman School of Music and at Stanford University. Since 1986 she has been on the faculty at The Mannes College of Music in New York. She has twice been a Regents' Lecturer at the University of California, San Diego, and teaches regularly at Amherst Early Music and at other summer workshops including the Viola de Gamba Society of America's Annual Conclave.

Arthur Haas is one of the most sought after performers and teachers of Baroque music in the United States today. He received the top prize in the Paris International Harpsichord Competition in 1975 and then stayed in France for a number of years as an active member of the growing European early music scene. While in Paris, he joined the Five Centuries Ensemble, a group acclaimed for its performances and recordings of Baroque and contemporary music. He is a member of the Aulos Ensemble, one of America's premier period instrument ensembles whose recordings of Bach, Vivaldi, Telemann, and Rameau have won critical acclaim in the press, as well as Empire Viols, and Aula Harmoniæ. Along with many solo and chamber concerts throughout North America, he recently toured in Korea and Peru, and in December, 2014, was featured in a concerto evening with the China National Symphony in Beijing. He has recorded harpsichord music of Jean-Henry D'Anglebert, Forqueray, Purcell and his contemporaries, Elisabeth Jacquet de La Guerre, François Couperin, and most recently the three books of Pièces de Clavecin of J.Ph. Rameau. Annual summer workshop and festival appearances include the International Baroque Institute at Longy, and the Amherst Early Music Festival, where he served as artistic director of the Baroque Academy from 2002-2011. Mr. Haas is Professor of Harpsichord and Early Music at Stony Brook University where he leads the award winning Stony Brook Baroque Players, and is also on the faculty of the Yale School of Music and Mannes College of Music.