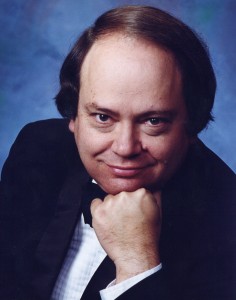 Jeffrey Swann
Jeffrey Swann enjoys an international performing career which has taken him throughout the United States, Europe, Latin America and Asia. He won first prize in the Dino Ciani Competition sponsored by La Scala in Milan, a gold medal at the Queen Elisabeth Competition in Brussels, and top honors at the Warsaw Chopin, Van Cliburn, Vianna da Motta and Montreal Competitions, as well as the Young Concert Artists auditions in New York City. His large and varied repertoire includes more than 60 concertos as well as solo works ranging from Bach to Boulez.
In addition to presenting lecture/recitals worldwide, Mr. Swann has performed with the symphonies of Cincinnati, Pittsburgh, Seattle, Indiana, Dallas, Saint Louis, Houston, Baltimore, San Antonio, New Jersey, Louisville, New Orleans, Honolulu and Minneapolis; and in Europe with the orchestras of Rotterdam, The Hague, Belgian National and Radio, Warsaw Philharmonic, La Scala, Santa Cecilia, RAI Turin and Rome, Czech Philharmonic, Radio France de Montpellier and the London Philharmonia, among many others. The conductors with whom he has performed include Zdenek Macal, David Robertson, Esa-Pekka Salonen, Marek Janowski, Kazimirz Kord, Myung-Whun Chung, Roberto Abbado, Riccardo Chailly, Daniele Gatti and Leonard Slatkin. In addition, he continues to lecture regularly at the Wagner Festival in Bayreuth, Germany, and at Wagner Societies in the United States and Italy. Mr. Swann has also served as a judge at many competitions, most recently the Premio Venezia in Venice, Italy.
A native of Northern Arizona, Jeffrey Swann studied with Alexander Uninsky at Southern Methodist University and with Beveridge Webster and Adele Marcus at The Juilliard School, where he received his B.M., M.M. and D.M.A. Degrees. Mr. Swann can be heard on Ars Polona, Deutsche-Gramophon, RCA-Italy, Replica, Fonit-Cetra, Music & Arts, and Agorá recordings. His CD, "The Virtuoso Liszt" (Music & Arts) won the Liszt Society's Grand Prix, and his first volume of the Complete Beethoven Sonatas (Agorá) was chosen one of the Best of the Year by Fanfare magazine. His most recent release features works for piano and orchestra by Chopin with the Haydn Orchestra of Bolzano. Since 2007, Jeffrey Swann has been the Music Director of the Dino Ciani Festival & Academy in Cortina d'Ampezzo, Italy, since 2008 the Adel Artist-in-Residence at Northern Arizona University, and since 2013 the Artistic Director of the Scuola Normale Concert Series in Pisa, Italy. Other teaching experience includes the International Keyboard Institute at Mannes College of Music (2002-Present), Master Classes at Texas Christian University, University of Minnesota, Imola Academy (Italy), University of Virginia, San Diego State University, Texas A&M University at Corpus Christi, University of Tennessee, Arizona Piano Teachers' Federation, University of Iowa, and Stanford University, as well as Piano Master Courses in Milan, Udine, La Spezia, and Weimar.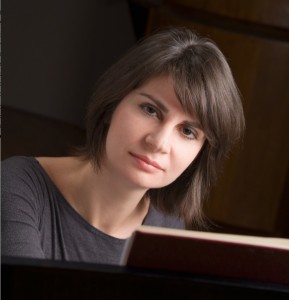 Marina Lomazov
Praised by critics as "a diva of the piano" (The Salt Lake City Tribune), "a mesmerizing risk-taker" (The Plain Dealer, Cleveland), and "simply spectacular" (Chicago International Music Foundation) Ukrainian-American pianist Marina Lomazov has established herself as one of the most passionate and charismatic performers on the concert scene today. Following prizes in the Cleveland International Piano Competition, William Kapell International Piano Competition, Gina Bachauer International Piano Competition, and Hilton Head International Piano Competition, Ms. Lomazov has given performances throughout North America, South America, China, England, France, Germany, Italy, Spain, Austria, Bulgaria, Ukraine, Russia, Japan and in nearly all of the fifty states in the U.S.
Marina Lomazov has given major debuts in New York (Weill-Carnegie Hall) Boston (Symphony Hall), Chicago (Dame Myra Hess Concert Series), Los Angeles (Museum of Art), Shanghai (City Theater) and Kiev (Kiev International Music Festival). She has performed as soloist with the Boston Pops, Rochester Philharmonic, Eastman Philharmonia, Chernigov Philharmonic (Ukraine), KUG Orchester Graz (Austria), Bollington Festival Orchestra (England), Piccolo Spoleto Festival Orchestra, Brevard Festival Orchestra and South Carolina Philharmonic, to name a few. New York Times chief music critic Anthony Tommasini describes a recent New York performance as "dazzling" and Talk Magazine Shanghai describes her performances as "a dramatic blend of boldness and wit".
In recent seasons, Lomazov has performed extensively in China, including concerts in Shenyang, Shenzhen, Chengdu, Dalian, Guangzhou, Jinan, Nanjing, Qingdao and Yingkou. She is a frequent guest at music festivals in the U.S. and abroad, including Perugia Music Fest (Italy), Hamamatsu (Japan), Chautauqua, Brevard, Eastman, Burgos (Spain), Sulzbach-Rosenberg (Germany) and Varna (Bulgaria), among others. She has recorded for the Albany, Centaur and Innova labels and American Record Guide praised her recent recording of piano works by Rodion Shchedrin for its "breathtaking virtuosity". She has been featured on National Public Radio's "Performance Today", the "Bravo" cable channel and WNYC's "Young Artist Showcase" and her recordings have been broadcast more than 100 times by WNYC and WQXR in New York, WFMT in Chicago and WBGH in Boston.
Before immigrating to the United States in 1990, Marina studied at the Kiev Conservatory where she became the youngest First Prize Winner at the all-Kiev Piano Competition. Ms. Lomazov holds degrees from the Juilliard School and the Eastman School of Music, the latter bestowing upon her the highly coveted Artist's Certificate – an honor the institution had not given a pianist for nearly two decades. Her principal teachers include Natalya Antonova, Jerome Lowenthal and Barry Snyder. Also active as a chamber musician, Lomazov has performed widely as a member of the Lomazov/Rackers Piano Duo. The duo garnered significant attention as Second Prize winners at the Sixth Biennial Ellis Competition for Duo Pianists (2005), the only national duo piano competition in the United States at that time. As advocates of modern repertoire for duo piano, they have given premieres of numerous works across the United States, including several works written specifically for them.
Ms. Lomazov is Ira McKissick Koger Professor of Piano at the University of South Carolina where she is Founder and Artistic Director of the Southeastern Piano Festival. She has served as jury member for the Cleveland International Piano Competition (Young Artists), Hilton Head International Piano Competition, Eastman International Piano Competition, Minnesota International Piano e-Competition, National Federation Biennial Young Artist Auditions and is a National Panelist for the National YoungArts Foundation, the only organization in the US that nominates Presidential Scholars in the arts.
Marina Lomazov is a Steinway Artist.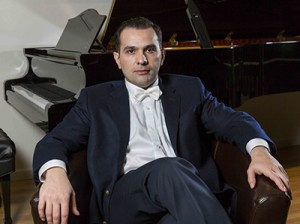 Alexander Beridze
Hailed by American Record Guide as an "exceptional artist," pianist Alexander Beridze thrills audiences and critics alike with his dazzling precision and range, as well as his insightful eloquence and sensitivity. Gold Medalist of the 2009 World Piano Competition, Beridze made his New York recital debut at Alice Tully Hall in 2011 where critics called his performance "brilliant, superb and simply electrifying" and "a splendid one that passed by almost too quickly."
A native of the Republic of Georgia, Beridze has performed as soloist with the major orchestras in his home country, including the Tbilisi State Symphony, the Georgia National Symphony Orchestra, and the Republic of Georgia State Opera and Ballet Symphony. He made his US concerto debut performing under the direction of Vladimir Feltsman in New York in 2004. In addition to his Alice Tully recital, he has concertized at Carnegie Hall's Weill Recital Hall, Merkin Hall, Steinway Hall, the Russian Consulate, and Harris Hall in Aspen. Devoted to chamber music, his collaborations include concerts with cellist Yehuda Hanani.
Beridze gave a sold-out concert at Carnegie Hall's Weill Recital Hall in the fall of 2014, where he performed works by Beethoven, Brahms and Schumann. This program was also featured on his released debut solo recording by NY Classics, and was broadcast on radio throughout the United States and Canada.. His media credits include performances that have been broadcast to 57 countries from New York's RTVI, and NTV America, two of the most popular channels in Russia and post-Soviet countries. An appearance as a special guest on Voice of America counts among his many radio credits.
Attending conservatory as his country was suffering from the devastating effects of separating from the collapsed Soviet Union, Beridze persevered in his study of piano performance, winning the major Georgian competitions, receiving Georgia's President's Grants in 2001 and 2005, and the Vladimir Spivakov Award in 2003. He first came to international attention as the winner of the 2004 Jacob Flier International Piano Competition, run by legendary pianist Vladimir Feltsman, who invited Beridze to move to the United States to study with him at the Mannes School of Music.
A passionate teacher, Beridze is on the faculty of the Center of Musical Excellence in New York City and has served as Artist in Residence at Rice University's Shepherd School of Music. In 2009, he founded the New York Piano Festival, where he serves as Artistic Director, organizing an international concert and master class series and providing concert opportunities to young students to perform in venues throughout New York City. In the Republic of Georgia, Beridze received undergraduate and advanced degrees at Tbilisi State Conservatory. Upon arriving in the United States, he earned a Professional Studies degree at the Mannes School as a student of Vladimir Feltsman and his Doctor of Musical Arts degree at Rutgers, State University of New Jersey.
Beridze also holds a doctorate in journalism from Tbilisi State University. As a correspondent for Krivis Palitra, a weekly newspaper in the Republic of Georgia, he was the author of more than 500 articles on music and interviewed many of the world's most renowned musicians, including Rostropovich, Rozhdestvensky, Bashmet, and Vengerov.
Dedicated to raising funds for cancer research, he has produced and performed numerous charity concerts.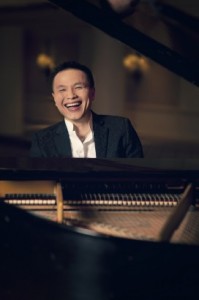 Dizhou Zhao
Dizhou Zhao has been hailed as "a fully fledged artistic force" by The Philadelphia Inquirer, and Fanfare Magazine says the pianist "offers the blend of passion and intelligence that characterizes the mature artist" and that he "lives fully in the music." Mr. Zhao was born and raised in China, where he began studying the piano at the age of four in his hometown of Shanghai. By age seven he performed his first public concert and won First Prize in a competition in Shanghai. Just one year later, he was invited to record five of Mozart's piano sonatas, and at eleven, he enrolled in the preparatory Music School of the Shanghai Conservatory of Music. At age 17, he was invited to participate in the Cong-A International Piano Competition in Seoul, as its youngest competitor, and performed Prokofiev's Piano Concerto No. 3 with the Shanghai Symphony Orchestra the following year, with only ten-days' notice.
A winner of Astral's 2012 National Auditions, he is also winner of numerous competition prizes, Mr. Zhao captured the top prize at Australia's Southern Highlands International Piano Competition, the International Keyboard Institute & Festival's Dorothy MacKenzie Artist Recognition Scholarship Awards, and the Louisiana International Piano Competition, which included concert engagements in France, Russia, and Australia as well as a solo performance in Carnegie Hall's Weill Recital Hall. He has also been a prizewinner in the Tbilisi and Viardo international piano competitions, as well as the World Piano Competition in Cincinnati, and received the Special Recognition Award from the San Antonio International Competition and the Special Chopin Award at the first USASU International Piano Competition in Tempe, Arizona.
Upcoming performances include recitals in the Taipei National Concert Hall and a performance in Detroit's Max M. Fisher Music Center. Mr. Zhao performed Mozart's Double Piano Concerto with famed Italian pianist Stefano Miceli in Boston's Tsai Performance Center in October 2010, with the Leipzig Philharmonic Orchestra. He was also the featured soloist in Stravinsky's Concerto for Piano and Wind Instruments with the Queensland Symphony Orchestra, which was broadcast on ABC Radio. He has given recitals at the Newport Music Festival and participated in the Music Academy of the West in Santa Barbara, where he studied with Jerome Lowenthal. Recent engagements include a recital in Taiwan's National Recital Hall, a series of allChopin recitals in Texas, and appearances at the Bergamot Music Festival and the New York Piano Festival. He also gave masterclasses in Italy and China. In 2008, Mr. Zhao recorded his debut solo CD in Moscow, for the Classical Records label.
Dizhou Zhao came to the U.S. in 1999 to study at the New England Conservatory, where he earned a Bachelor's degree with a distinguished performance award and studied with Russell Sherman and Patricia Zander. He also holds a Master's degree from NEC, under Alexander Korsantia, and in 2010 received an Artist Diploma, with honors, from Boston's Longy School of Music. In 2001, he won NEC's Concerto Competition and in the same year performed Schumann's Piano Concerto in A minor with the NEC Honor Orchestra in Boston's Jordan Hall. In the summer of 2015, he was a professor at the International Piano Master Festival in Brindisi, Italy. He currently serves as the director of the piano program at the National Music Institute for Young Artists, the programming chair of Cranbrook Music Guild in Bloomfield Hills, Michigan, and is Executive Artistic Director of the Happy Day Music Performing Arts Center in Troy, Michigan, where he teaches nearly 100 students.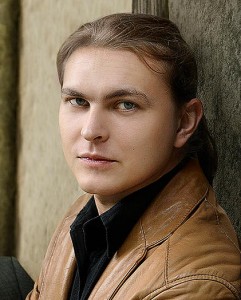 Ilya Kazantsev
Ilya Kazantsev, a fresh and exciting presence on the international music scene, has been hailed by The Washington Post as "virtually flawless." He has performed extensively with orchestras in Russia and the United States, as well as appearing in recital in Germany, Japan, Italy, France, Canada, Ukraine, Belarus, Russia, the United States, and Slovenia. His many awards and honors include first prize at the Nikolai Rubinstein International Competition (Paris); he also won the International Chopin Competition (Moscow) and the 2007 & 2008 World Piano Competitions (Cincinnati).

In 2014, Ilya was invited to join the esteemed Hermitage Piano Trio, which also includes the renowned soloists Misha Keylin (violin) and Sergey Antonov (cello). An enthusiastic advocate of contemporary music, Ilya has presented numerous premieres of works by contemporary American, Russian, and Eastern European composers, many of which have been dedicated to him. His advanced studies have included working with such prominent contemporary music specialists as Jay Gotlieb, Mark Ponthus and the legendary composer and conductor Pierre Boulez, who praised Ilya for his thoughtful performance of composer's Douze Notations.
Ilya began his music studies in his native Moscow and at the age of nine was accepted as a student of Valeriy Pyasetsky at the Central Music School at the Tchaikovsky State Conservatory. Subsequently, he moved to the United States in 2002 to continue his studies at the Mannes College of Music and the Manhattan School of Music, working with Arkady Aronov. He currently resides in Boston, MA.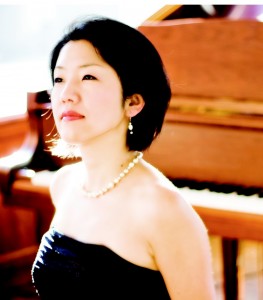 Michiyo Morikawa
Michiyo Morikawa, pianist, was born in Nagano, Japan, Ms. Morikawa was a volunteer music teacher at the La Gran Familia Orphanage in Mexico. She holds a Master of Music degree from the Manhattan School of Music where she studied with Karl Ulrich Schnabel and a Professional Studies diploma from the Mannes College of Music. She has studied with Germán Diez, Jerome Rose, Aube Tzerko and John Perry. Ms. Morikawa has received several honors including First Prize and the Special Composer's Prize in Spain, Cuba, Mexico, U.S and Japan. She has performed concerti with the New York Symphonic Ensemble, and, in Mexico, the Filarmonica de Jalisco, the Sinfonica de Coyoacan, and the UNAM Chamber Orchestra. She is a frequent recitalist in the New York area, as well as Latin America, Europe and Japan. As a chamber musician and accompanist, Ms. Morikawa has performed with brass players including trumpet player Stephen Burns, Philip Smith and Thomas Smith of the New York Philharmonic, Raymond Reccomini of the Metropolitan Opera Orchestra and John Rojak of the AmericanBrass Quintet, Stefan Dohr of the Berlin Philharmonic, Michael Rossi of the Kennedy Center Opera House Orchestra. Ms. Morikawa is currently a pianoteacher at the Third Street Music School Settlement, Avenus the World School and at Greenwich House Music School in New York City.
She can be heard as soloist and accompanist in the following recording albums: "Midnight Conga" as soloist; Trumpet and Piano albums "The Inner Voice" with Raymond Reccomini and "Path"with Antonio Marti, and Violin and Piano "Estampa" with Hisaichi Shimura.